Products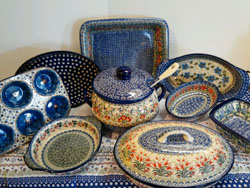 Bakeware
Beautiful & functional, baking pieces go from the oven or the microwave, to the table for serving, or out the door to a party! Baking pieces are perfect for serving or storing your favorite dishes.
We carry covered bakers, large medium and small bakers, muffin, loaf, pie, quiche bakers, and a variety of casserole bakers in oval, rectangle & square. We also carry soup tureens which are great for baking as well.
---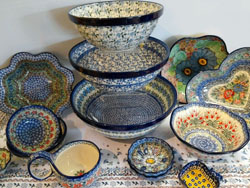 Bowls
Impress your friends with our beautiful and functional Polish Pottery bowls! We have the perfect bowl for every occasion! Remember to mix and match patterns to create a truly unique collection!
We carry a variety of kitchen mixing bowls, batter bowls, berry bowls, cereal, dessert, custard & soup bowls. We carry large, medium and small serving bowls in a variety of shapes & patterns for all occasions.
---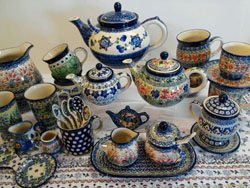 Coffee & Beverage
Polish Stoneware is perfect for entertaining friends or just enjoying your morning coffee. It keeps beverages hot for a long time and will soon become your favorite morning piece!
We carry large, medium and small bubble shaped mugs as well as straight mugs. We carry tall mugs for iced tea and large and small tumblers. We have a variety of cream and sugar sets, teapots, and pitchers. We also have tea bag caddies, tea infusers and coasters.
---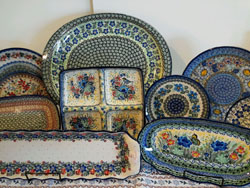 Plates & Platters
Don't save your Polish Pottery plates or platters for special occasions! They are designed to be used as everyday dinnerware! Remember, they are dishwasher and microwave safe.
We carry a variety of round, oval, scalloped and divided serving platters, dinner plates, luncheon plates, dessert plates and toast plates. We also carry cake platters, cookie trays, pizza plates, bread trays and a variety of small serving trays for all uses.
---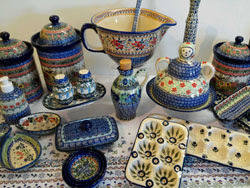 Kitchen Accessories
We have just about every kitchen accessory imaginable to complement your Polish dinnerware and bakeware.
We carry large, medium, and small canisters & covered jars, vinegar bottles, butter dishes, paper towel holders, corn trays, olive boats, salt & pepper sets, spoon rests, soap dishes, soap dispensers, spoons, forks and knives, large & medium serving spoons, & pie servers, We also carry cutting boards and cookie sheets.
---
Specialty
Enjoy Polish Pottery throughout your home for every holiday! It makes a truly beautiful and functional gift for all occasions.
We carry seasonal items such as rabbits, Christmas ornaments, trees, and bells, Easter rabbits & Pysanky wooden eggs. We also carry Polish Cook Books, figurines, key chains, ring holders, clocks, cheese ladies, mini trinket boxes, cake boxes, napkin rings , honey pots, jam jars & more!
---
Home Decor & Seasonal
Accent your home with a Polish Pottery vase, kitchen hanger, cook book stand, candle, flower pot, or a butterfly plant accent. Polish Pottery makes the perfect accent piece in any home.
Decorate your bath with a Polish Pottery soap dispenser, soap dish & tumbler. Polish Pottery covered jars and trays are great for essentials! Inventory varies by season.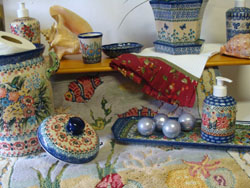 We also carry triple, double and single wrought iron wall racks and table racks to display your Polish Pottery. We always add some seasonal items throughout the year, so visit our store soon and see what's new!