About Out of the Blue Polish Pottery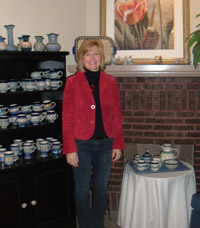 Our family owned shop is located in unique Monticello, Illinois. We fell in love with Polish pottery while living in Germany, and decided to share our love of this pottery when we were relocated back to Monticello. We have been using the pottery daily ever since discovering it a few years ago. The pottery is superb to bake in, easy to clean and makes a beautiful table setting for any occasion. It is truly a unique combination of functionality and beauty.

We found an historic home built in the 1880's and knew it would be the perfect place to showcase our Polish pottery. Since opening in May 2006, our business has grown and we are now able to offer the largest selection of Polish pottery in central Illinois. Myself, along with my knowledgeable staff, can offer you personal service, and we are here to answer any questions you have about the pottery, or help you mix and match your favorite patterns.

We carry a large selection of 1st. Quality Polish pottery from three of my favorite factories in Boleslawiec, Poland; Ceramika Artystyczna, Zaklady and Manufaktura. We also have some select pieces of crystal from Germany and carry a few kitchen textiles and gourmet food mixes. At Christmas time we also carry a variety of ornaments from Poland and Germany.

Visiting our shop is truly an enjoyable shopping experience. Please visit us soon and remember the perfect gift comes from
…


Out of the Blue!